About
updated 03/25/2014 3:18pm
updated 05/27/2022 11:15am
At nearly 1,000 acres, Creekmoor is among the largest residential communities in Kansas City and the surrounding region, but Creekmoor is more than a place to live; it is a place that can enhance every aspect of your life with enjoyable activities.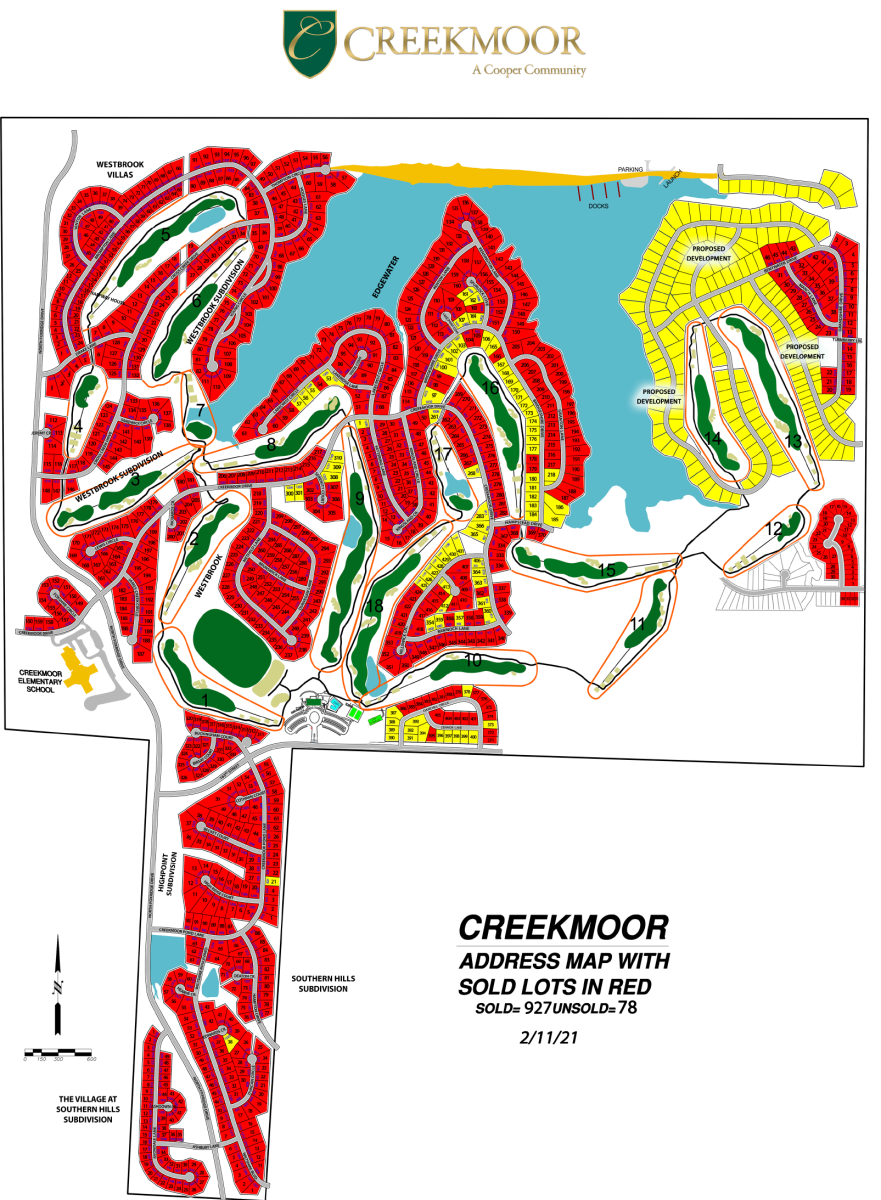 updated 01/24/2019 2:10pm
Seven distinct neighborhoods are currently in development at Creekmoor. Westbrook, Westbrook Villas, Edgewater Villas, Southern Hills, High Point, Cunningham and the Village at Southern Hills offer a wide variety of home sites and styles to choose from. While each neighborhood has its own unique character and charm, they all provide a superior quality of life for our residents.
A new community pool will be opening Memorial Day 2019! The pool is located in the Cunningham neighborhood, located off of 155th and Madison Street. The new pavilion and playground area located in Cunningham will be opened this spring for our owners to use and enjoy!
updated 02/14/2017 10:15am
The Golf Club at Creekmoor is designed by Ault, Clark & Associates, Ltd. This firm was established in the late 1950's by Edmund B. Ault.
Meandering along the ridges and valleys at Creekmoor are the fairways of the Golf Club. The course offers a true championship challenge for the serious golfer. It is the perfect venue for a sociable round for couples, a relaxed and comfortable track for seniors or a stimulating discovery for youngsters just trying the game on for size.
Notable Events The Golf Club has hosted:
CHAMPIONSHIP EVENTS
•2009 U.S. OPEN LOCAL QUALIFYING
•2013 U.S. OPEN LOCAL QUALIFYING
•2013 AJGA LOCKTON KANSAS CITY JUNIOR
•2016 AJGA LOCKTON KANSAS CITY JUNIOR
•2017 KANSAS CITY AMATEUR
•2017 U.S. OPEN LOCAL QUALIFYING
•KCGA STATELINE TOUR EVENTS
CHARITY & CORPORATE EVENTS
•GRACE ELIZABETH SHAW FOUNDATION
•GREATER KANSAS CITY INDEPENDENT AGENTS' ASSOCIATION
•MUTUAL OF OMAHA | KEVIN LOCKETT CHARITY EVENT
•PATHWAYS CHIP-IN-FOR-CHARITY
•RAYMORE ROTARY
•REECE NICHOLS
•SOUTH KANSAS CITY CHAMBER OF COMMERCE
•ST. JUDE HOSPITAL
updated 01/24/2019 2:26pm
The centerpiece feature of the Creekmoor community is its private 108-acre lake. Creekmoor's lake is carved from wooded hills and offers a water sports playground for all of our community residents to enjoy. Most lakefront lots may have private docks, while all of Creekmoor's residents may apply for slip space at the community marina.
updated 01/24/2019 2:33pm
The property owners' clubhouse facility offers a spacious community pool with beach entry, tennis courts with basketball goals, and a recently renovated state-of-the-art fitness facility. The clubhouse serves as home to the Tavern on the Moor restaurant and dining room, serving light seasonal fare for our owners, their guests and the general public. The clubhouse is a great location for your next private event - be it birthday celebration, wedding or friendly get together. The Event Patio seats 115 guests and the formal dining room will accommodate 60 guests. The clubhouse conference room may also be reserved for small business meetings and social gatherings. Contact us today to make your reservation!
We invite all of our owners and guests to stop by the clubhouse for a great meal or a cold beverage!!